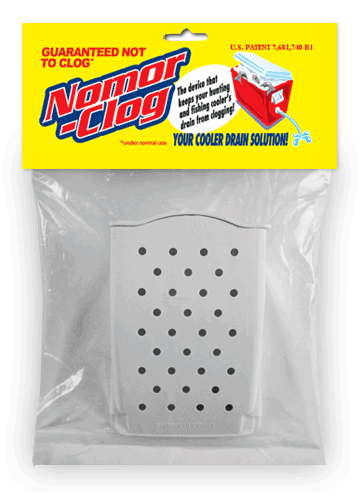 Nomore Clog Cooler Drain Cover
Introducing Nomore Clog, the amazing device that keeps your cooler's drain plug from clogging! Nomore Clog's patented design prevents objects from forming a seal around your cooler's drain and therefore clogging it up. No matter what you throw at Nomore Clog... ice, plastic, fish, meat, bags, paper, cardboard, drinks... whatever you put in your cooler, Nomore Clog will keep it away from your drain.

$12.99 plus S&H
(Texas Residents add 8.25% Tax)
Orders of more than 20, please call for special pricing.
Now fits Rotomold Coolers Yeti, Artic, Etc.

$25.99 plus S&H (Texas Residents add 8.25% Tax)
Orders of more than 20, please call for special pricing
General Policy
All Products are available "while supplies last".
Your credit card is charged when your order is placed.
Visa, Master Card, Discover Card, American Express accepted.
Sales Tax will be charged to Texas customers.
Item availability and prices subject to change without notice.
Manufacturer's warranties in effect at time of purchase apply.
All defective products are handled through us. Call 1-409-296-9368 or email: Nomoreclog@windstream.net for instructions on returns.
All defective returns handled on a repair/replacement basis only.
All non-defective returns subject to a 20% restocking fee.
All returns must have Return Merchandise Authorization Number. (Please see below)
We are not responsible for typographic errors.
Manufacturer's specifications subject to change without notice.
Return Policy
Lange Industries Inc. wants you to be satisfied with your purchase. Return instructions are available by e-mail or telephone. All returns must be unused, and in original factory condition & cartons. This does not apply to the Nomore Clog Return shipments must be prepaid by customer. We do not accept COD shipments. Return Authorization (RA) number must be obtained through Lange Industries by E-Mail at Nomoreclog@windstream.net or by telephone @ 1-409-296-9368. Returned packages will not be accepted without the RA number on the outside of the package. If an order is canceled by a customer, after it has been shipped, we reserve the right to charge the customer a return freight charge plus the 20% restocking fee. We make every effort to ensure that your order arrives in good condition. Please carefully inspect all items and parts for damage. Note any damage on the freight bill when you sign for your order. If you find concealed damage after opening products, you have 48 hours to report it to the delivering freight carrier and Lange Industries. We cannot honor any claim for damage after this period.